THE FACTS
Turmeric has powerful, healing properties due it being antibacterial, anti inflammatory, antifungal and full of anti-oxidants. It is a brilliant natural remedy to all kinds of ailments and skin conditions.
Turmeric, or "haldi", is a deep, orange root from India, where it has been used for thousands of years as a spice and medicinal herb. Historically, it has been used to treat health issues ranging from jaundice, blood diseases to bruises and cuts. More recently, studies have shown that turmeric, especially curcumin (the compound found in turmeric which gives it its distinctive colour), could potentially stop the development of certain cancers. As well as having many demonstrable benefits to health, turmeric is packed full of antioxidants which also makes it amazing for skin. What's more, because it's both antibacterial and anti-inflammatory, it is a brilliant natural remedy to those suffering with sensitive skin conditions like rosacea, psoriasis, eczema and acne.
Applied topically, the curcumin in turmeric inhibits this bacteria on the skin, helping not only to clear existing acne flare-ups, but also to prevent them. In fact, one study has shown that turmeric is 36 times stronger than azelaic acid, an irritating chemical used in some over-the-counter acne treatments. 
Its anti inflammatory properties also mean that turmeric can soothe painful cystic breakouts and calm redness.


Psoriasis, an autoimmune condition that causes red, scaling lesions on the skin, can be managed and soothed by turmeric, whether you're eating it or applying it directly on an inflamed area. 
Turmeric reduces histamine levels (which are responsible for inflammation), blocks a molecule called Nf - kB, which "turns on" the inflammatory response in cells, and has a whole host of other benefits for sufferers of this skin condition.


Eczema, characterised by inflammation and irritation of the skin, can be also kept under control with turmeric because it lowers the expression of enzymes responsible for inflammation in the body. 
Turmeric can stop the spread of irritation, soothe itchiness and promotes healing. Most people say that turmeric is even more effective as an eczema treatment than medicated lotions and creams.
TOP TIP: Make your own Turmeric Tea at home!

To get the most out of this wonderful, natural root, try introducing it as a staple in your diet. Here at Suneeta Cosmetics HQ, we drink it by the gallon! Try the recipe below and look out for glowing, soothed, healthy skin. This natural remedy also helps to suppress nasty coughs.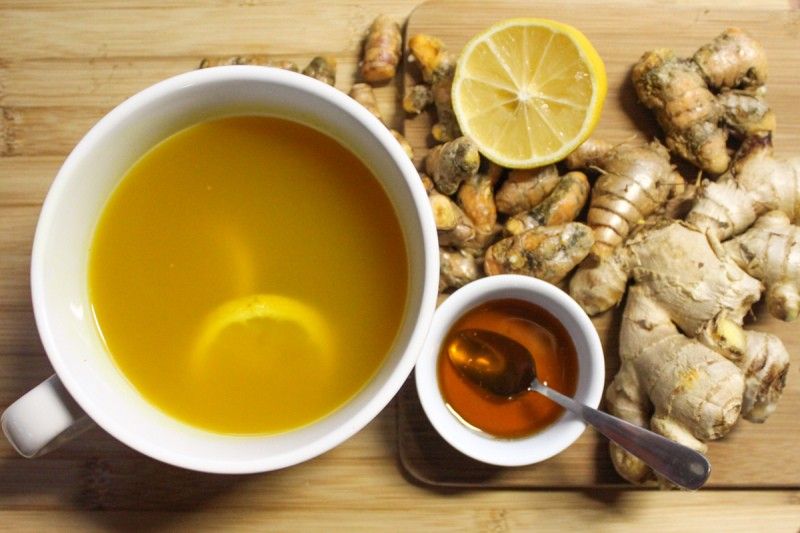 1 Cup Milk                             
2 Tbsp Grated Turmeric 
4 Cloves 
8 Black Peppercorns 


Mix all the ingredients together in a pan, bring to the boil and then leave to simmer for 15 minutes. Allow to cool then add honey to taste!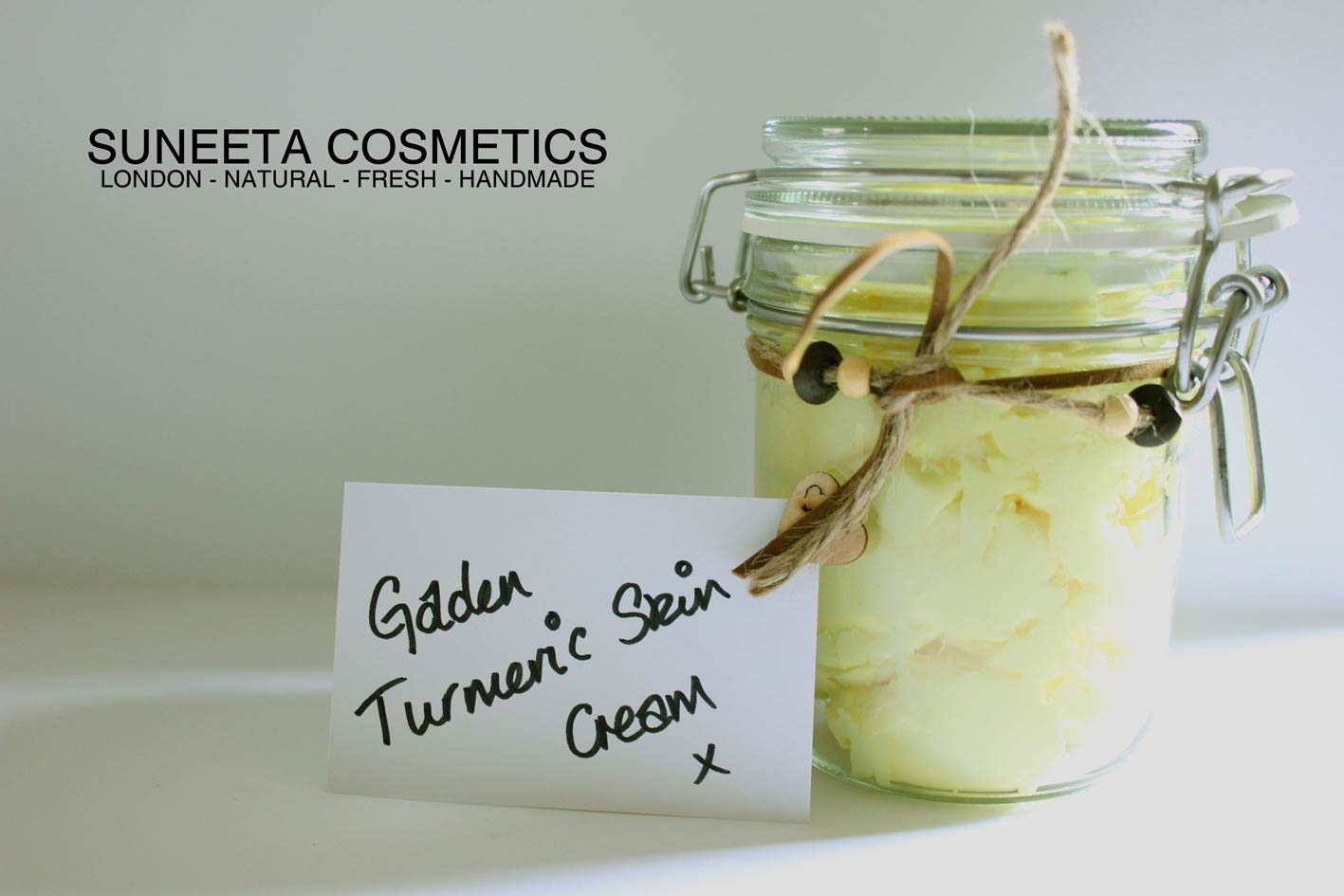 Our Golden Turmeric Cream is a powerful blend of natural, moisturising and soothing ingredients:
Cocoa butter: Ultra-hydrating, cocoa butter is a tried and tested natural moisturiser. Perfect for healing dry, damaged skin, cocoa butter glides over the skin and creates an occlusive barrier on the surface of the skin, ensuring moisture is 'locked in' and allowing the turmeric to get to work underneath!
Turmeric: Antibacterial, anti inflammatory, antifungal and full of anti-oxidants - need we say more?
Olive Squalene: A quick absorbing, antibacterial antioxidant which promotes cell growth and regeneration. It prevents ageing and is also a similar chemical structure to the oils present in our skin, so it will feel right at home on your face or body. Squalene is also a wonderful  humectant, meaning that it attracts moisture from the air, so you can quench thirsty skin with a burst of natural hydration.
Almond oil: A mild, hypoallergenic moisturising oil full of essential fatty acids.
The Golden Turmeric Skin Cream is suitable for face, hands and body and can be used as a treatment or as part of your daily skincare routine. This healing cream has the ability to
Improve skin elasticity and moisture retention. 
Prevent age spots.
Improve texture and tone.
Boost cell regeneration and reoxygenation.
Reduce scarring and blemishes leaving soft, nourished and healthy skin.
Heal damaged, cracked or chapped skin.
Treat acne, eczema, psoriasis and other skin conditions.
References
bbc.co.uk/news/magazine-37408293 stage.jst.go.jp/article/cpb/61/4/61_c1201043/_article www.healthline.com/health/psoriasis/turmeric-and-psoriasis#Benefits2