Meet our two eye creams for day and night: a double-edged attack on wrinkles and dryness!
We have all heard of using one cream for day and another for night, haven't we? For daytime, we need something quick and fast absorbing to pat on in the morning, but in the evening many of us prefer to layer on a thicker product to work its magic while we sleep.
Here at Suneeta Cosmetics, we apply that philosophy to our eye creams.
As we age, our skin gets drier and loses elasticity, making it more susceptible to wrinkles and fine lines. This is evident most in the thinner, delicate skin under and around the eyes. Hydration is key to boosting the skin's natural defence against outside aggressors, but did you know that moisture is constantly evaporating from the skin's outer layers? Locking in moisture with a combination of powerful moisturising ingredients is key to a healthy, hydrated under-eye area.
Good Morning, Aloe Vera Eye Gel!
Aloe vera - Gentle and soothing, aloe vera moisturises the skin and calms irritation. Aloe is suitable for even the most sensitive skin types, helping to improve the elasticity of the skin, making it smoother and more supple. Aloe also increases water content in the skin, leaving it hydrated but not greasy.
Cold-pressed almond oil - Almond oil is a natural emollient with amazing moisturising properties, softening the skin whilst holding in moisture provided from the aloe vera. This light oil also contains essential fatty acids that nourish the skin and ensure its smooth texture. Almond oil's antioxidant properties make it brilliant for lightening skin that has darkened by environmental damage, so dark circles will be reduced with long-term use.
Organic rosehip seed oil - Rosehip seed oil is a beautifully light and delicately fragrant oil harvested from the seeds of rose bushes grown in Chile. Our organic rosehip seed oil is full of vitamins, antioxidants and essential fatty acids that are known to correct dark spots, hydrate and brighten skin, all while reducing fine lines.
Rose Maroc oil - From the Rosa Centifolia flower, rose maroc essential oil is uplifting, relaxing and rejuvenating. Great for calming the delicate under-eye area.
Chamomile oil - Chamomile oil, distilled from freshly dried flowers, contains azulene, a powerful aromatic substance, which is anti-inflammatory and promotes rapid healing of the skin.
Pure Vitamin E oil - Vitamin E boosts collagen production, treating wrinkles by supporting new skin cell growth and speeding up cell regeneration.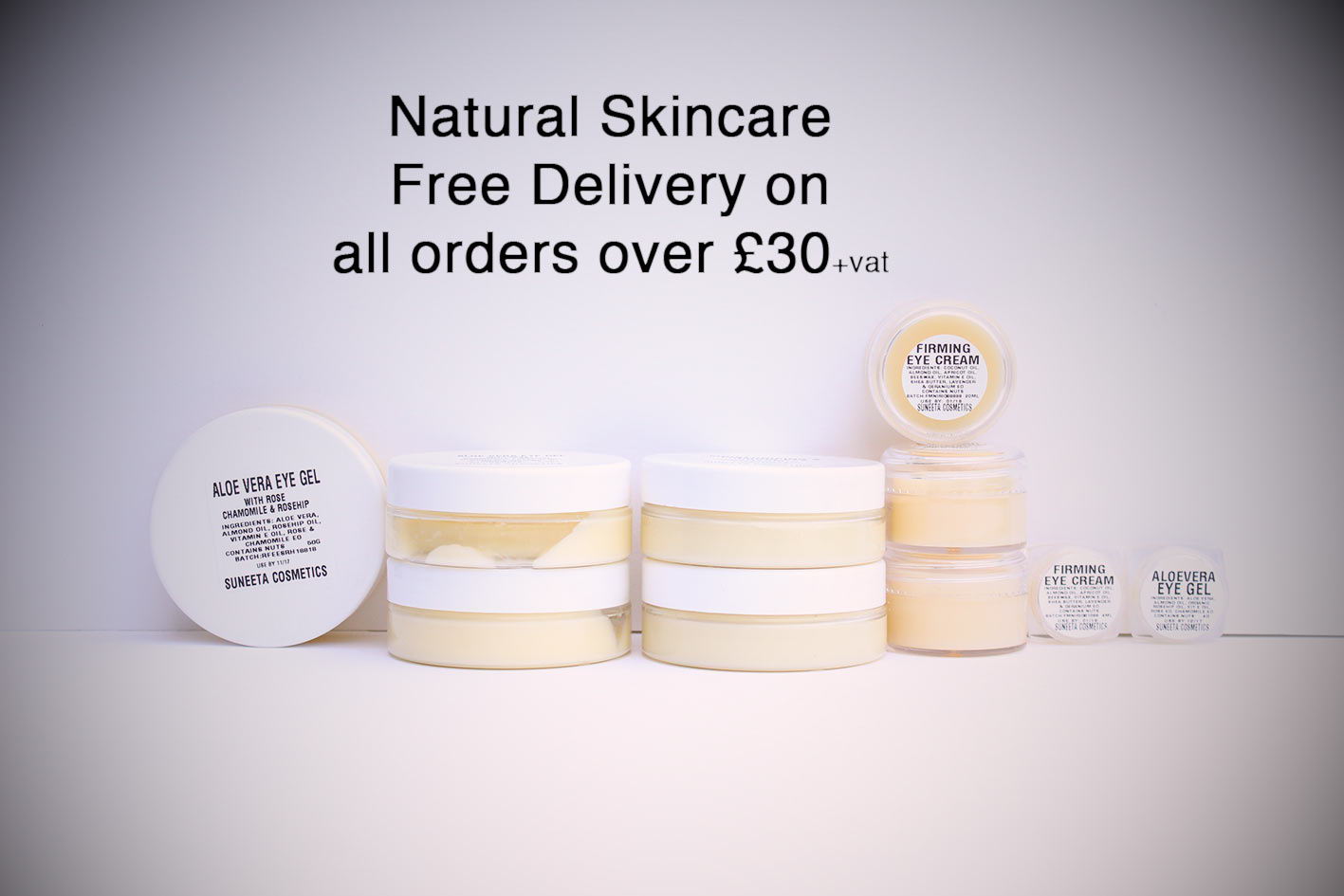 Sleep soundly with Suneeta's Firming Eye Cream
Cold-pressed coconut oil - Conditioning and wonderfully moisturising, coconut oil is a tried and tested nourishing, skin-loving ingredient. Coconut oil is full of antioxidants, rich in vitamin E and helps to neutralise toxins, which not only detoxifies but also builds the skin's natural immune system, helping to fight signs of ageing.
Unrefined beeswax - Beeswax is formed almost entirely of natural fatty acids which are crucial to maintaining skin's smooth texture. Rich in vitamin A, it also helps boost skin cell regeneration. Beeswax moisture not only heals dry skin, but is highly effective in preventing the dehydration that produces dry skin and leads to fine lines.
Cold-pressed almond oil - A rich emollient with incredible moisturising properties, as explained above!
Organic cold pressed apricot oil - A light and easily absorbed moisturising oil with anti-inflammatory, antibacterial and antioxidant properties that promotes younger skin and an even skin tone.
Unrefined shea butter - Our West African shea butter is high in linoleic acid, best known for its ability to heal, hydrate and plump. Shea butter is one of our favourite ingredients to use as it has so many wonderful benefits for the skin, including protecting against free radical damage that leads to fine lines and dehydration. Its powerful anti-oxidant properties means that it is a brilliant healer and skin softener.
Lavender - Calming and soothing, lavender oil is a sensual fragrant oil that is known to promote a better night's sleep- perfect for a night time eye cream.

Geranium - Used by the Ancient Egyptians for beautiful and radiant skin, gentle geranium essential oil reduces inflammation and improves circulation, which promotes healthier skin and helps cell growth.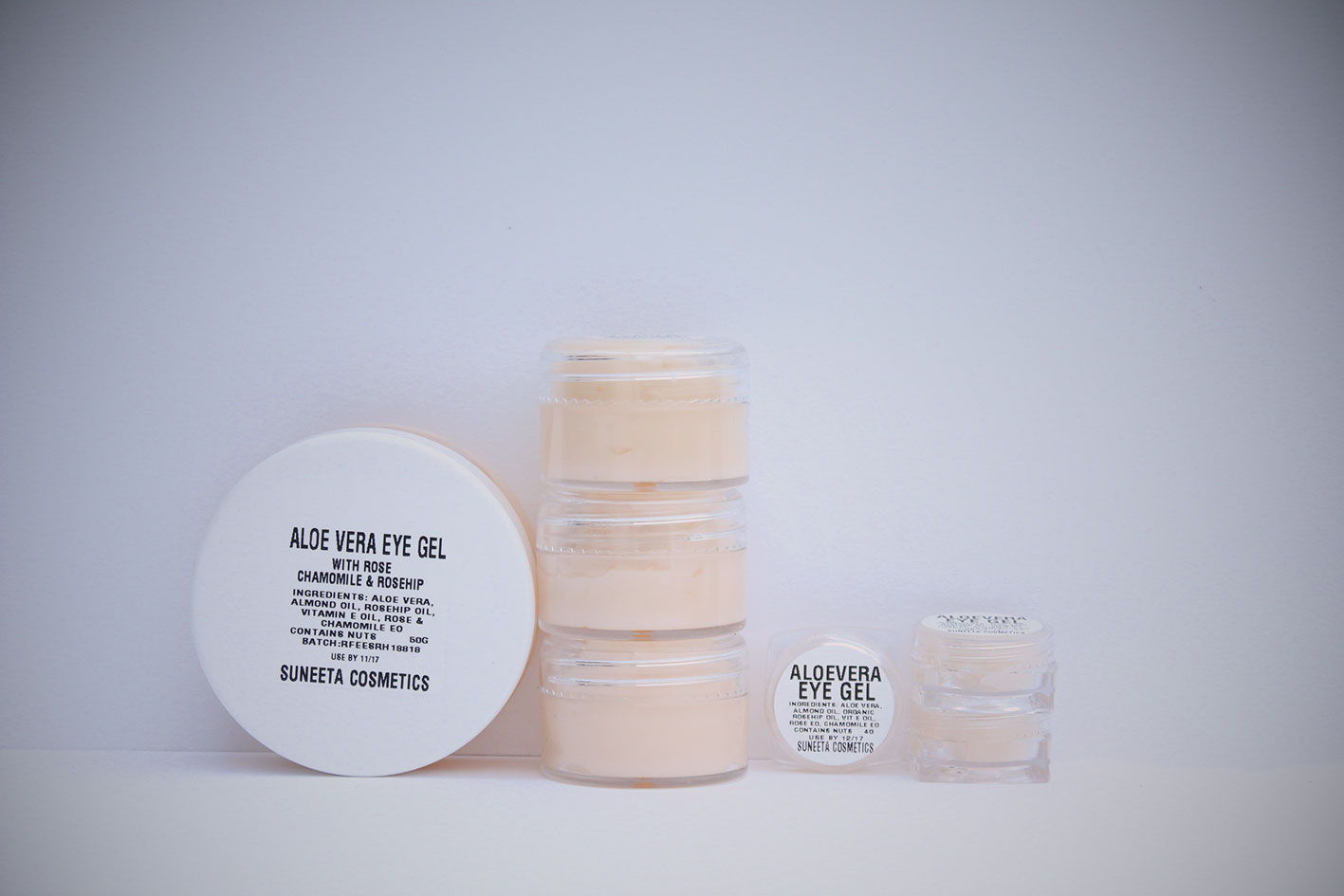 Top Tip: USE ALOE EYE GEL AS A SLEEPING MASK FOR FACE - PLUMPED, HYDRATED, FRESH-FEELING SKIN!
Our Aloe Eye Gel has such affinity with skin that you don't need to limit yourself to using it around the eyes. One of our lovely customers actually came up with the great idea to using it as a sleeping gel mask over her whole face. Calling it 'collagen in a bottle', she told us she had woken up with soft, plump skin the morning after using it.  
We suggest patting the Aloe Vera Eye Gel around your face, then layering the Firming Eye Cream underneath your eyes, before going to sleep, once or twice a week.

Let us know how you get on!